What makes us tick!
Our Values
Fun at Workplace
At CEAT we endeavor to create a working environment that drives each individual's professional and personal growth.
While Quality Based Management principles drive professional achievement, a value-driven work ethic spurs our spirit of collaboration and excellence. A spirit built on trust, integrity and respect. An environment tuned to hands-on-deck learning and experience, where every individual feels empowered to contribute their best, both creatively and analytically.
With employee-centric policies that make room for personal growth, CEAT has created an environment that encourages a vibrant work-life balance.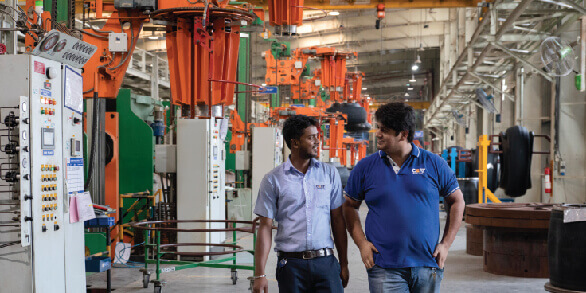 Quality Based Management
QBM or Quality Based Management is a Japanese manufacturing or management system, that's well-known the world over, and practiced across CEAT.
The primary purpose of QBM is to guide organizations to become customer-centric, and once there, continue to meet customer expectations with the highest efficiency.
Here 'Quality' goes beyond the product, to harness multiple forces like people and processes. At CEAT, it consists of a philosophy, systems, tools and techniques from Total Quality Management (TQM), Total Productive Maintenance (TPM) and Toyota Production System (TPS).
These principles help align every individual in the organization on 3 major goals:
Promoting 'quality' thinking within the organization
Developing an organizational culture and value system, based on TQM principles
Setting objectives and targets that drive us to be more customer-centric
A 'CAIRO' State of Mind!
C
Challenger
Innovative and agile, I question existing methods
and encourage experimentation.
I am a Challenger when…
I strive towards breakthrough innovation
I prototype new methods and develop the innovation funnel
I question existing methods of working
I am open to criticism
A
Aspiration-led
A clear purpose combined with a passion for superior performance,
walking the extra mile.
I am Aspiration-led when…
I dare to dream
I deliver an outstanding experience to my customers
I walk the extra mile in the pursuit of our purpose and vision
I
Integrity
Being authentic, transparent and keeping commitments.
I demonstrate my Integrity when…
I take responsibility for my actions and ensure I do what I say, and say what I do
I am transparent with my stakeholders
I honor my commitments
I am responsible with company information
R
Result obsession
Pasion, high-energy, speed and collaboration
I demonstrate result-obsession when…
I bring passion, high-energy and systematic planning to every goal I pursue
I make timely decisions, based on facts and data
I put the interests of the organization ahead of my own, and collaborate to make it possible
I take responsibility for results directly, and encourage my co-workers to be accountable as well
O
Openness
Approachable, open and boundaryless.
I am open when…
I am approachable and involve the larger team and consider their views
I value the skills, strengths and views of others
I operate directly across functions, rather than through hierarchy
I have a passion for learning, sharing ideas and helping others develop
Fun at Workplace
Innovative and Agile, Questioning existing ways, Promoting
Experimentation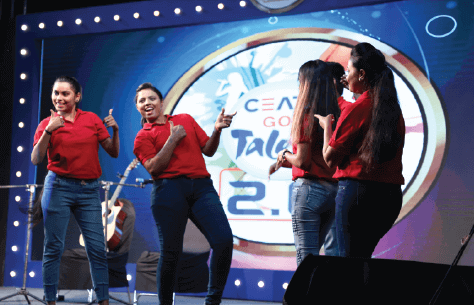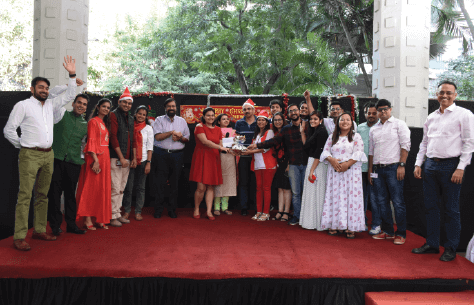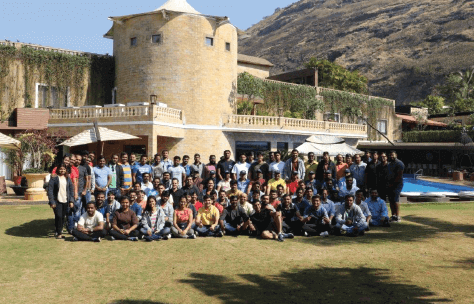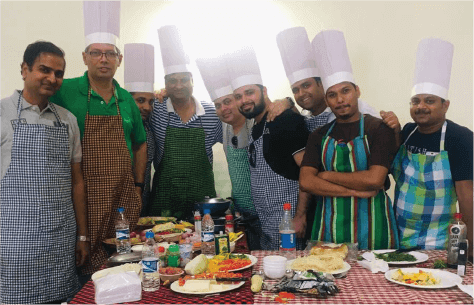 Working policies that work for you
CEAT's working policies are designed to respect an individual's personal and professional goals. From flexi-working for new mothers, to higher education and rewards, our policies care not just for the employee, but allow for all aspects of the individual, the parent, the dreamer, the creator, to flourish.
Flexi-working for new mothers
While 26 days of leave are a given, provisions have been made for mothers to work half-days until the child is a year old.
Work-time policy
We believe that a good work-life balance not only improves quality of life, but also spurs individual productivity significantly. This policy aims at enabling employees to plan their daily schedule and help them manage personal and environmental contingencies.
Higher education support
When you're climbing the professional ladder, you may want a little boost. You'll have it at CEAT, where employees get the opportunity to acquire higher education, in the form of an Executive Post Graduate Diploma in Business Management.
Insurance
The health of our employees shouldn't be constrained by financial hurdles, so over the years, we've worked to remove caps on medical procedures, including maternity hospitalization.
Reward & recognition for patents & innovation
An organization's competitive advantage lies in continuous innovation. This policy aims to encourage and reward employees who sharpen our competitive edge, while inspiring other team members to contribute in a similar fashion.
Sabbatical
As an organization we aim to cater to the very human need to rest, recuperate, recharge or just re-invent the self. We make room for individuals to pursue personal interests, hobbies and goals, so they may return to work reinvigorated and renewed.